October 22, 2022
Alberta Premier Danielle Smith announces new cabinet, keeping several key Kenney ministers
The only leadership rival who didn't make it back into cabinet was Chestermere-Strathmore MLA Leela Aheer
Publishing date:
Oct 21, 2022  •  2 hours ago  •  4 minute read  •  18 Comments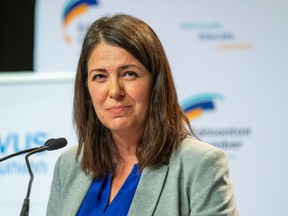 Alberta Premier Danielle Smith is keeping several familiar faces who served under former premier Jason Kenney in her new cabinet announced Friday, while shuffling out a key member of Kenney's inner circle.
Those keeping their seat at the table include Travis Toews in finance, Adriana LaGrange in education, Jason Copping in health, and Tyler Shandro in justice.
Edmonton Journal Headline News
Sign up to receive daily headline news from the Edmonton Journal, a division of Postmedia Network Inc.
By clicking on the sign up button you consent to receive the above newsletter from Postmedia Network Inc. You may unsubscribe any time by clicking on the unsubscribe link at the bottom of our emails. Postmedia Network Inc. | 365 Bloor Street East, Toronto, Ontario, M4W 3L4 | 416-383-2300
Jason Nixon, former environment and parks minister and then finance minister during Toew's run for the leadership, will be relegated to the backbench.
With 27 ministers or ministers without portfolios including Smith, only five in cabinet are women. It was announced via news release, and Smith is not expected to take questions from reporters until Monday after members are formally sworn in at 11 a.m.
Speaking to alternative right-wing media organization the Western Standard Friday, Smith said she wanted to express confidence in Toews.
"It was a really close leadership race, and I think that the fact that people were struggling to make a choice between he and I … shows that they want him in a senior role," said Smith, referring to the final ballot in which she won 54 per cent and Toews took 46 per cent.
Smith also said, as she prepares for a major revamp of the health-care system, that "Jason Copping's up for the job."
Most leadership rivals, campaign supporters get posts
Among those who also ran against Smith for leadership, former children's services minister Rebecca Schulz will be in charge of municipal affairs, Rajan Sawhney will take over trade, immigration and multiculturalism, and Fort McMurray-Lac La Biche MLA Brian Jean will be the minister in charge of jobs, economy, and northern development. Recently welcomed back into UCP caucus, Central Peace-Notley MLA Todd Loewen will head forestry, parks, and tourism.
The only leadership rival who didn't make it back into cabinet was Chestermere-Strathmore MLA Leela Aheer.
Article content
Smith told the Western Standard she wanted to demonstrate that she respected the role leadership candidates played in "raising bold issues."
Meanwhile, Kenney's long-time energy minister Sonya Savage has been shuffled to head an environment and protected areas ministry.
Demetrios Nicolaides will stay in advanced education and Kaycee Madu, who supported Smith in her leadership bid, will head a new skilled trades and professions ministry.
Madu will serve as one of two deputy premiers, along with Lethbridge-East MLA Nathan Neudorf, who is also being promoted to infrastructure minister.
Along with Madu, several MLAs who publicly supported Smith's campaign are also getting seats at the table, including former mental health and addiction associate minister Mike Ellis, who will take over a new portfolio of public safety.
Nate Glubish, formerly in charge of Service Alberta, will take over a new technology and innovation portfolio.
Airdrie-Cochrane MLA Peter Guthrie will become Alberta's new energy minister, and Innisfail-Sylvan Lake MLA Devin Dreeshen will become the transportation and economic corridors minister. Dreeshen had previously resigned his cabinet position in agriculture and forestry after allegations of alcohol use in his office.
Out of the fold are former municipal affairs minister Ric McIver, former seniors and housing minister Josephine Pon, former transportation minister Prasad Panda, former culture minister Ron Orr, and former environment and parks minister Whitney Issik.
When asked by Western Standard why they and Nixon were shuffled out, Smith said some still need to resolve issues in their own ridings.
"There are a number of cabinet ministers who are seen to really be the hand of the former premier on a lot of files that caused our party a lot of problems," said Smith.
Still 'Kenney's central cabinet': political scientist
University of Calgary political scientist Lisa Young told Postmedia the limited number of women in cabinet is "striking," and she was surprised key roles like education and health were given to ministers appointed by Kenney.
Article content
"There's certainly changes around the outside, and in some of the more junior roles, but for those critical central roles, she has not changed anything from Kenney's cabinet," said Young, adding that the restructuring of ministries, including adding irrigation to the agriculture ministry's title, is mostly about sending a signal about Smith's priorities.
Young said while Smith will need to rely on the experience that several ministers have had in government, the premier's choice of who to give an interview to on Friday was notable.
"Elevating the Western Standard — which is not an established journalistic undertaking — to this role, is sending a signal to her supporters that she hasn't changed even though she has appointed Jason Kenney's central cabinet," said Young.
Article content
With the associate ministry of natural gas and electricity nixed, former associate minister Dale Nally will serve as the Service Alberta and red tape reduction minister.
Madu's former labour and immigration ministry has also been abolished, as has the seniors and housing ministry.
Calgary-Klein MLA Jeremy Nixon will take over a new seniors, community and social services ministry.
No longer an associate ministry, status of women will fall to Tanya Fir as a parliamentary secretary.
Mental health and addictions will be its own ministry headed by Nicholas Milliken.