October 30, 2022
Shonda Rhimes Ditches Twitter After Elon Musk's Takeover: 'Bye'
Screenwriter Shonda Rhimes announced Saturday that she will leave Twitter after Tesla CEO Elon Musk officially took over the social media platform this week.
"Not hanging around for whatever Elon has planned. Bye." she tweeted without revealing further details about whether or when she will delete her Twitter account permanently.
The social media platform came under Musk's ownership on Thursday night, hours before the Friday deadline. The billionaire now controls the company after spending months trying to back out of the $44 billion deal.
Musk originally agreed to the merger in April, but later tried to back out of his proposal. The billionaire cited high levels of bots and spam on the social media platform as his reason for nixing the deal, but Twitter denied his claims that the company had undercounted fake accounts.
Some social media users expressed their concerns about Musk running Twitter, including one Reddit user who told Newsweek that Musk's "history of false allegations, employee abuse and his huge ego" is why some people are concerned about the future of the social media platform.
"I think those are valid fears," the user known as u/Erick_Alden said. "A narcissist with lots of money is one of the scariest things imaginable. I am also deeply worried that his free-speech approach will embolden the alt-right to enter mainstream politics."
Twitter CEO Parag Agrawal, Chief Financial Officer (CFO) Ned Segal and General Counsel Vijaya Gadde were reportedly fired after Musk took control over the company. More personnel and operational changes in the company are expected in the coming weeks.
On Thursday, Musk explained why he bought Twitter in a letter to advertisers in which he said that he seeks to promote a "digital town square" where various beliefs can be expressed within limitations.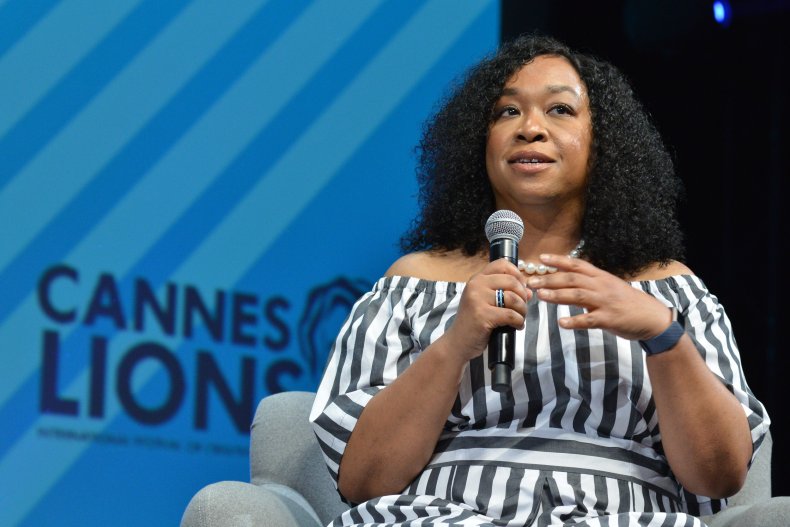 "The reason I acquired Twitter is because it is important to the future of civilization to have a common digital town square, where a wide range of beliefs can be debated in a healthy manner without resorting to violence," he wrote.
Unlike Rhimes, other celebrities and TV personalities welcomed Musk's Twitter acquisition, including fellow billionaire Mark Cuban, who said that Musk will "make a killing" by owning the company.
Cuban said on Friday that Twitter is "a unique asset that he will be able to take public the next time there is an insane bull market. He just needs to grow it profitably and he will make a killing."
Meanwhile, NBA legend Shaquille O'Neal congratulated Musk over the takeover and said that he is "excited" to see what he has planned for Twitter.
Similarly, Senator Ted Cruz, a Texas Republican, also expressed his enthusiasm about the news, calling the acquisition "the most significant development for free speech in modern times."
"Big tech is the single greatest threat to free speech in the free and fair elections that we have in America and Twitter was brazen about it, silencing and censoring conservatives," he told Fox News.
Additionally, American whistleblower Edward Snowden, who was recently granted Russian citizenship, said on Friday: "This is going to cause controversy, but platform censorship had clearly gone too far. Content moderation should be an individual decision, not a corporate prison. Let people make their own choices—and not just on Twitter." He was retweeting a news report that suggested Musk would reverse lifetime bans on Twitter users."
Snowden is still wanted in the United States after he leaked in 2013 highly classified National Security Agency (NSA) secrets related to global surveillance systems.
Newsweek reached out to the agency representing Rhimes for comment.