July 4, 2022
Turkey Detains Russian Cargo Ship Amid Ukraine's Stolen Grain Claims
Turkish customs authorities have detained a Russian cargo ship carrying grain that Ukraine alleges has been stolen.
Reuters reported Sunday that Ukraine had asked Turkey to detain the vessel, which is called Zhibek Zholy.
"We have full co-operation. The ship is currently standing at the entrance to the port, it has been detained by the customs authorities of Turkey," Ukraine's ambassador to Turkey, Vasyl Bodnar, said on Ukrainian national television, according to the news outlet. The ambassador said that Ukraine hopes the grain will be taken from the ship.
Since Russia's invasion of Ukraine, Ukrainian officials have accused the country of stealing its grain and trying to sell it abroad. In May, the United States warned African nations against buying grains that had been stolen from the Eastern European country.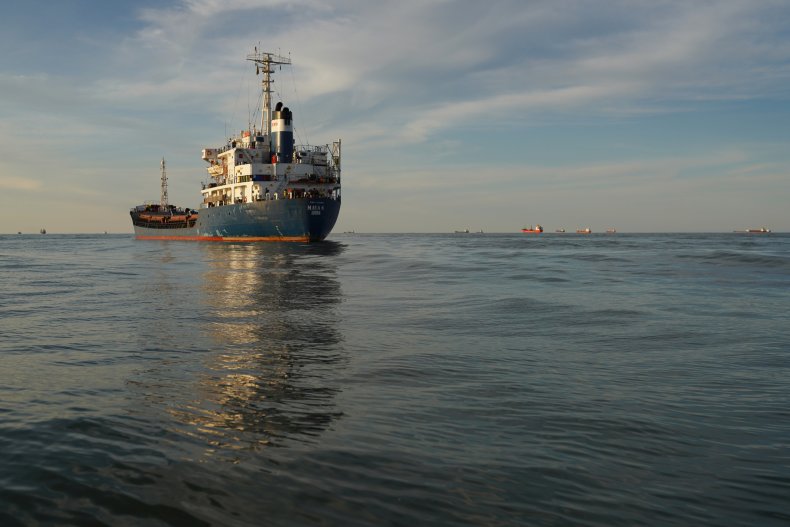 Ukraine also issued a similar warning to foreign countries that month.
"Russian thieves steal Ukrainian grain, load it onto ships, pass through Bosporus, and try to sell it abroad. I call on all states to stay vigilant and refuse any such proposals. Don't buy the stolen. Don't become accomplices to Russian crimes. Theft has never brought anyone luck," Ukraine's minister of foreign affairs, Dmytro Kuleba, tweeted on May 24.
In its report Sunday, Reuters cited an anonymous Ukrainian source who alleged that 4,500 tons of grain on the detained ship had been taken from Berdyansk, a Russian-occupied port city.
On June 30, Radio Free Europe reported that a cargo ship with 7,000 tons of grain had left Berdyansk. Yevhen Balytskiy, a Russian official appointed by Moscow to administer the occupied region, reportedly said the ship was leaving for "friendly countries."
The news of Turkey detaining the Russian cargo ship also comes less than a month after Bodnar accused Turkey of buying grain that Russia had stolen.
Newsweek has reached out to the Russian and Ukrainian foreign ministries for comment.
Last week, Russian troops withdrew from Snake Island in the Black Sea in a move that could make it easier for Ukrainian grain exports to leave from the port city of Odessa.
Combined, Russia and Ukraine produce 30 percent of the world's wheat and barley, according to the United Nations. Ukraine has also been working with the U.N. to transport grain past Russian blockades in the Black Sea.
"Russia plays hunger games with the world by blocking Ukrainian food exports with one hand and trying to shift the blame on Ukraine with the other. Ukraine is working on an international UN-led operation with navies of partners ensuring a safe trade route with no security risks," Kuleba tweeted on May 31.