November 28, 2022
Videos Show CCP Forces Violently Crackdown on China Protests Against Xi
Videos posted to social media show Chinese Communist Party (CCP) forces violently crack down on protests against Chinese President Xi Jinping's COVID-19 lockdowns.
Massive protests erupted across China in recent days following an apartment fire in Urumqi, the capital of the northwestern Xinjiang region, that resulted in the deaths of 10 people. Protesters are demanding Xi's resignation in a rare rebuke against his leadership, just weeks after he secured a historic third term.
The apartment fire triggered the protests after video posted to Chinese social media showing rescue efforts led some people to believe Xi's restrictive COVID-19 rules slowed the evacuation, resulting in unnecessary deaths.
Chinese authorities, however, maintained people inside the high-rise were able to go downstairs and escape the building, but their defense has done little to quell discontent among citizens, who still believe the zero-COVID policy prevented residents from fleeing the blaze.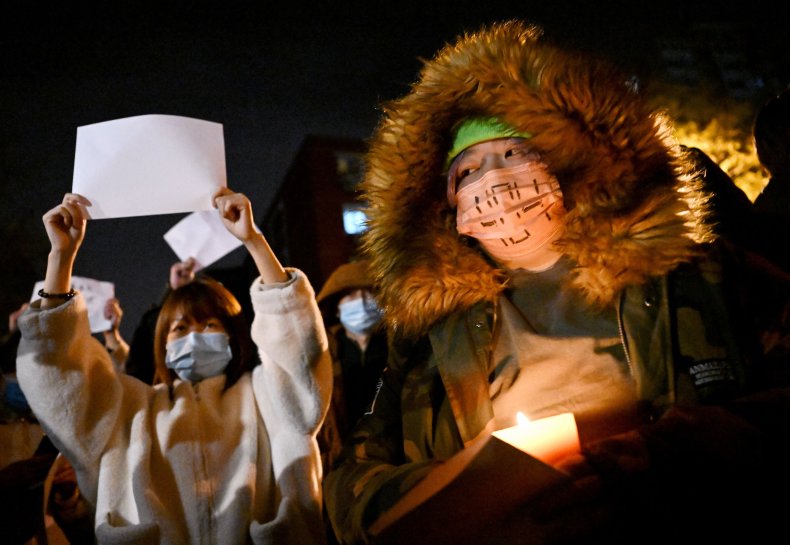 China implemented the policy to prevent widespread infection within its borders. Nearly three years after the first COVID-19 case was discovered in Wuhan, the CCP says its restrictions prevented a global economic downturn and millions of virus-fueled deaths.
Chinese protesters, however, are illustrating the growing discontent with the rules despite recent clashes with CCP police. Videos emerged on social media on Sunday showing authorities crack down on protesters, with scenes at times turning violent.
"Peaceful Anti Chinese Communist Party Government protests in Shanghai for the second day in a row," tweeted @_Inty_, a Twitter account that frequently tweets about Chinese current affairs. "The CCP began to violently crackdown the Chinese protesters."
NPR journalist Rob Schmitz tweeted a video showing police clearing protesters from the streets of Shanghai.
"It'll be interesting to see how the Chinese government responds in the coming days to crowds of Chinese calling for Xi Jinping and the CCP to step down," he tweeted.
Shows of political defiance are rare in China. Although authorities say they allow free expression, human rights experts have long raised concerns that the CCP stifles dissent among its citizens.
Human Rights Watch researcher Yaqiu Wang tweeted Saturday that the protests are "painful to watch, knowing what is going to happen to those who chanted and knowing the level of control the CCP has over the Chinese society."
Wang's tweet was in response to a video that showed protesters chant, "Down with the party! Down with Xi Jinping!" Other videos posted to Twitter depicted the protesters shouting "End the lockdown."
Xi Under Pressure
Before the protests began, Xi was already facing some political strife after thousands of employees resigned from Foxconn's flagship factory in central China where iPhones are produced.
Workers clashed with riot police, who were wearing hazmat suits, over living conditions inside a strict COVID-19 bubble. Videos showed hundreds of workers storm out of their dormitory building where they were met with a police response.
The protests are the most direct challenge yet to the zero-COVID policy. China has maintained that it has had few infections—and fewer deaths—in the past two years. However, the protests also come as cases are rising throughout the country. From October 26 to November 26, cases increased more than 490 percent, according to Johns Hopkins University data.
Xi also continues facing a strained relationship with other global super powers. He has become perhaps Russian President Vladimir Putin's most powerful global ally amid the otherwise-condemned invasion of Ukraine, and tensions with Taiwan have strained in recent months as island leaders rebuke Chinese leadership.
Newsweek reached out to the Chinese government for comment.