November 28, 2022
What closer trade ties with Vietnam mean for New Zealand
A trip to Vietnam earlier this month, led by Prime Minister Jacinda Ardern, solidified a growing trade relationship with one of Asia's fastest growing economies.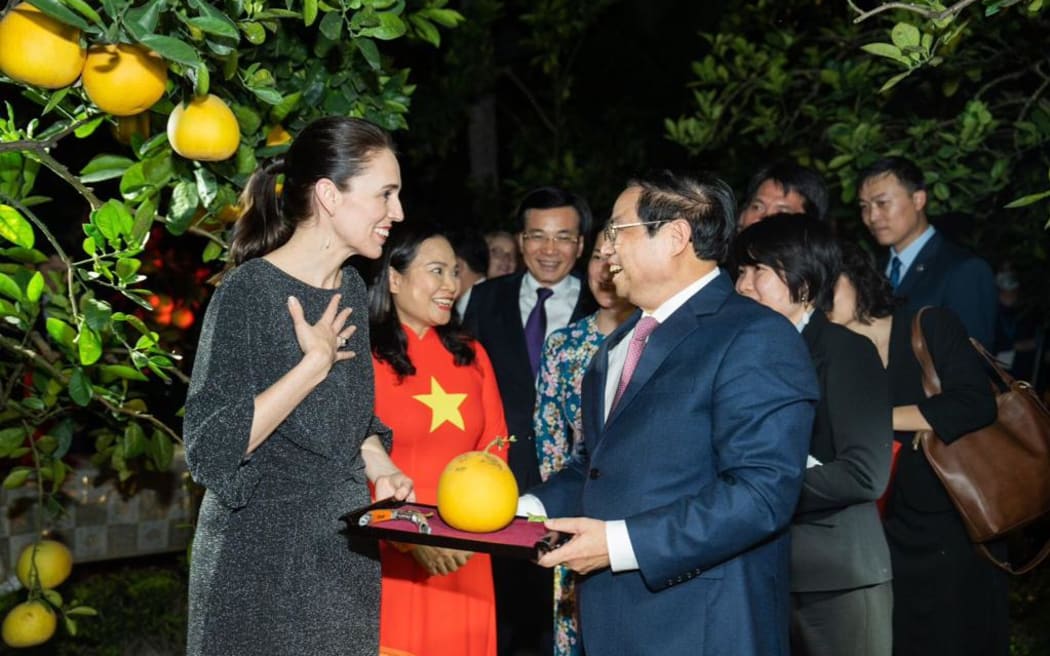 Following a dinner hosted by the Vietnamese government, Prime Minister Pham Minh Chinh escorted NZ Prime Minister Jacinda Ardern through gardens where they picked pomelo, which will soon be exported to New Zealand.
Photo: RNZ / Gyles Beckford
Earlier this month, Prime Minister Jacinda Ardern touched down in Vietnam with a sizeable trade delegation, with a mission to sell New Zealand to one of South East Asia's most quickly emerging markets.
It's also climbing up the ranks of our closest trade partners, with trade between the countries more than doubling in the last seven years to $2.4 billion.
Almost half of that is dairy, but once on the ground in Ho Chi Minh City and Hanoi, fruit was the big object on the agenda, with companies like Zespri plying their wares with the help of the now iconic anthropomorphised kiwifruit mascots.
It was the first big trade mission to Vietnam following pandemic shutdowns, and the strategic partnership between the two countries was formed in 2020. Now, New Zealand is looking to take advantage of the 100 million-strong market, which accounting firm PricewaterhouseCoopers predicts will be the fastest growing large economy in the world up to the year 2050.
RNZ business editor Gyles Beckford said there has been a "complete sea change" in the Vietnamese economy over the last 50 years.
"Vietnam, a lot like China, has become a part of the global market economy and while it remains a one-party state, it clearly is driven by commerce and doing business in a way that New Zealanders understand," he said.
An increasing appetite for New Zealand produce and a youthful population – almost 40 percent of people are aged under 30  – represents a huge under-tapped market for New Zealand sellers, but closer trade ties also allows for the government to iron out hiccups that have kept Vietnamese products from finding their way into New Zealand.
Limes were held up as one example, with Trade Minister Damien O'Connor saying people who like a piece of lime in their Corona will be happy now that biosecurity concerns have been put to bed.
Beckford said closer trade links with Vietnam could also be seen as a way to reduce reliance on China.
"It's also seen as a good part of the diversification of our trade away from that reliance on China, which of course takes about a quarter of our exports," he said. 
"So from that point of view, one of the criticisms has been that New Zealand… a bit too reliant on China, needs to look for other markets, and Vietnam is one of the better prospects looking ahead."
Ardern said resilience was important in New Zealand's export portfolio.
"You look at what happened when you saw border closures with Covid – if you had too much reliance on one market it became really problematic," she said. 
"Making sure that we either have diversification or good plans in place should there be disruption to market is just good practice."
Quick and early action in response to the pandemic meant Vietnam bounced back relatively quickly from Covid-19, and the country is keen to leverage the opportunity to pick up the manufacturing slack from China.
Vietnam didn't skate through untouched, however, with 85 percent of businesses saying Covid had narrowed their consumption markets and 75 percent of businesses saying they have reduced the size of their labour force.
Nevertheless, a quickly growing middle class represents tens of millions of potential buyers for New Zealand exports.
Vietnamese-New Zealander businessman Mitchell Pham is excited to see closer trade ties between the countries and said a closer relationship with Vietnam gave New Zealand more opportunity to voice concerns over human rights and environmental issues.
"The closer the relationship, the more trust we can gain and therefore the more positive influence we can have on our trading partners," he said. 
"That is going to be much more helpful or fruitful and impactful than shunning away from partners who are not doing things the same way we do."
Find out how to listen and subscribe to The Detail here.  
You can also stay up-to-date by liking us on Facebook or following us on Twitter. 


Photo: